Autumn Musing and Gratitude
Hey dear ones, We have been busy, busy like bees, driving here and there, fine-tuning sets for all the abundant fall shows and events we have the honor to be a part of, and preparing for some exciting recording projects coming up as well… The Sierra foothill forests put on the most beautiful Autumn show, and things seem like they're starting to wind down for the season and then, whooosh! Here comes the next round of amazing collaborations and events. We say YES to all that!
Honey of the Heart & BrightSide Blue @ Harbin Hot Springs!
Honey of the Heart will be performing with our dear friends BrightSide Blue (and Thomas Spellman for his birthday!!) at the amazing Harbin Hot Springs this upcoming Saturday! Get your reservations now. It is our only full-set superband combo show scheduled so far this fall! Our good friends the Feelings Parade recently did a show there they called 'Soak & Sob', and we liked that a lot, but can't imagine stealing it, so let's play with a little twist on the theme… like soak & soothe, or soak & savor, or soak & soul…. you get the idea, right (feel free to help us out!)? Anyhow, come soak and soothe your soul in our sonic sea of sound! ;)  We're stoked to swim in sound with our sweet, steady siblings of song and support sympathetic sustained, soul salve for your soul & senses.
Hope we sssee you ssssoon for a ssssoaking ssssesh.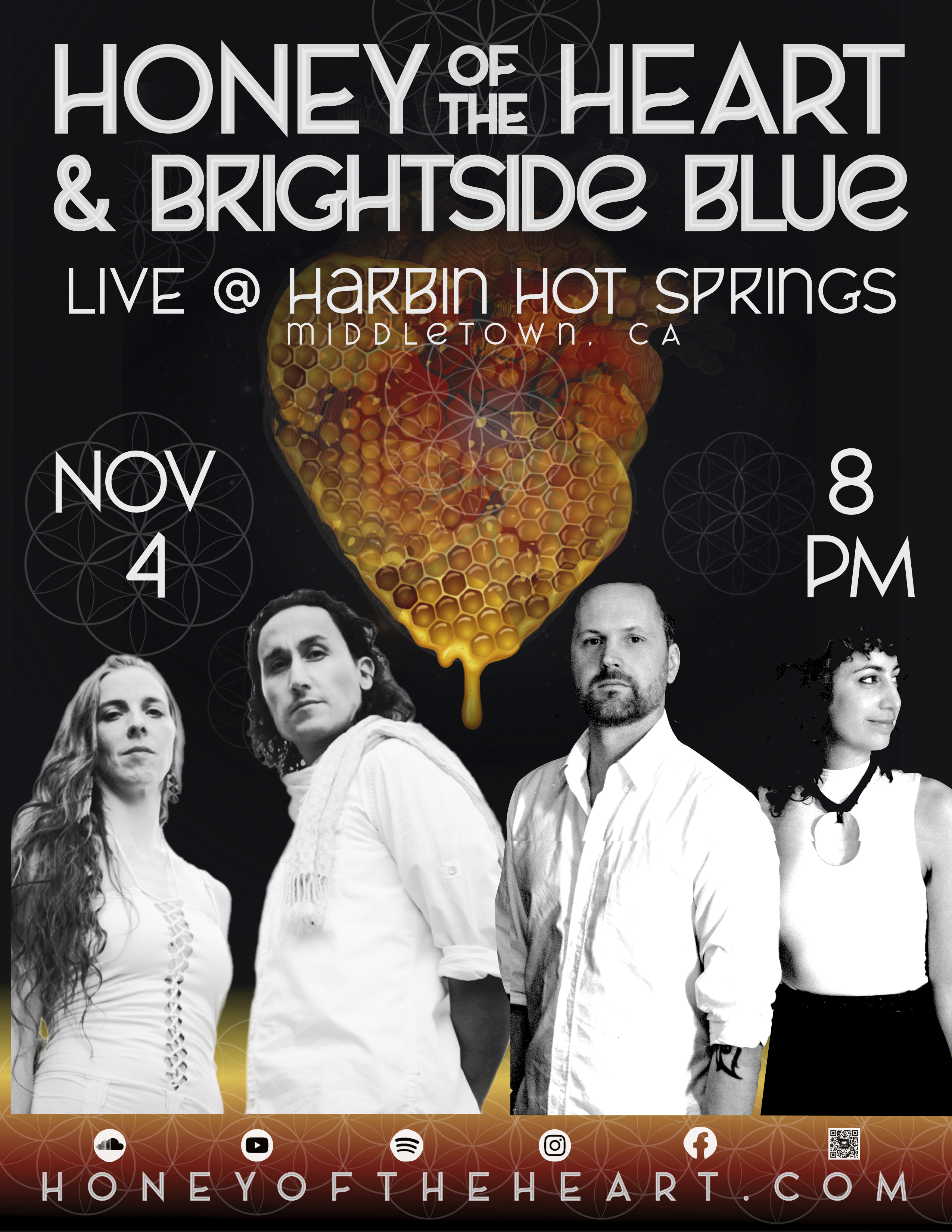 Honey of the Heart & Justin Ancheta live @ the Crazy Horse Saloon (Nevada City, CA)
Mark your calendars, get your dancing shoes on, and come ready to bask in the audio bath + groove of this special night (after Thanksgiving). We will be pulling out all the stops, with an all-star cast such as Gary Regina on Sax, Tum Bulkley on drums, Thomas Spellman on Bass, and DJ Fossil scratching. A rare performance by Justin Ancheta Band is sure to be a good time as they bring out the good old funk reggae dynamic improv magic soup.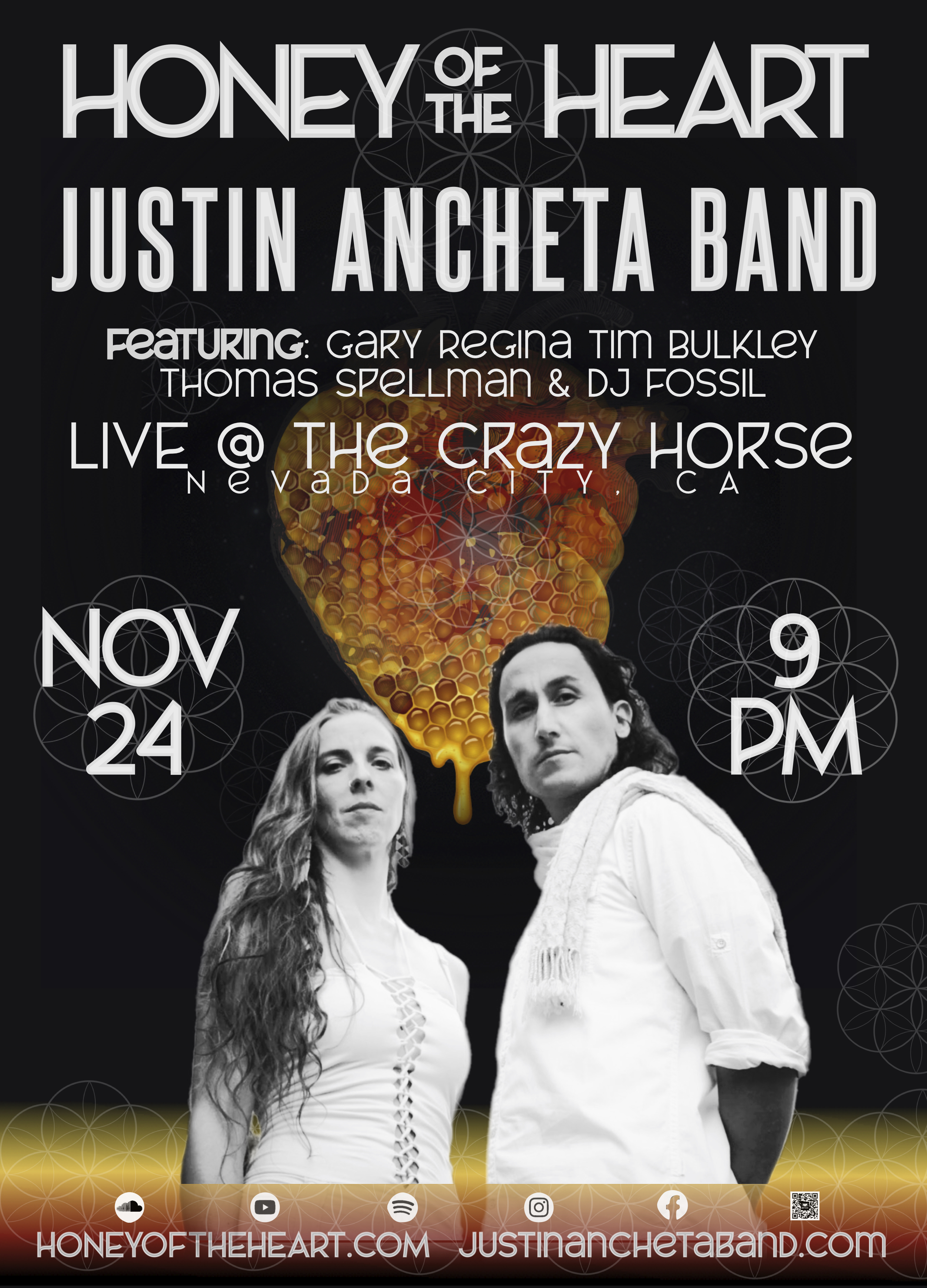 Night of Giving with BrightSide Blue & Honey of the Heart Superband!
We are honored to be asked to play at this year's annual Night of Giving (NOG) event at the Center for the Arts in December, along with many other talented & amazing musicians. It is such a good cause and such an incredible line-up as well. Huge love and props out to Maggie McKaig for being creatress and seeing this through in such a powerful way, as she has for many years now.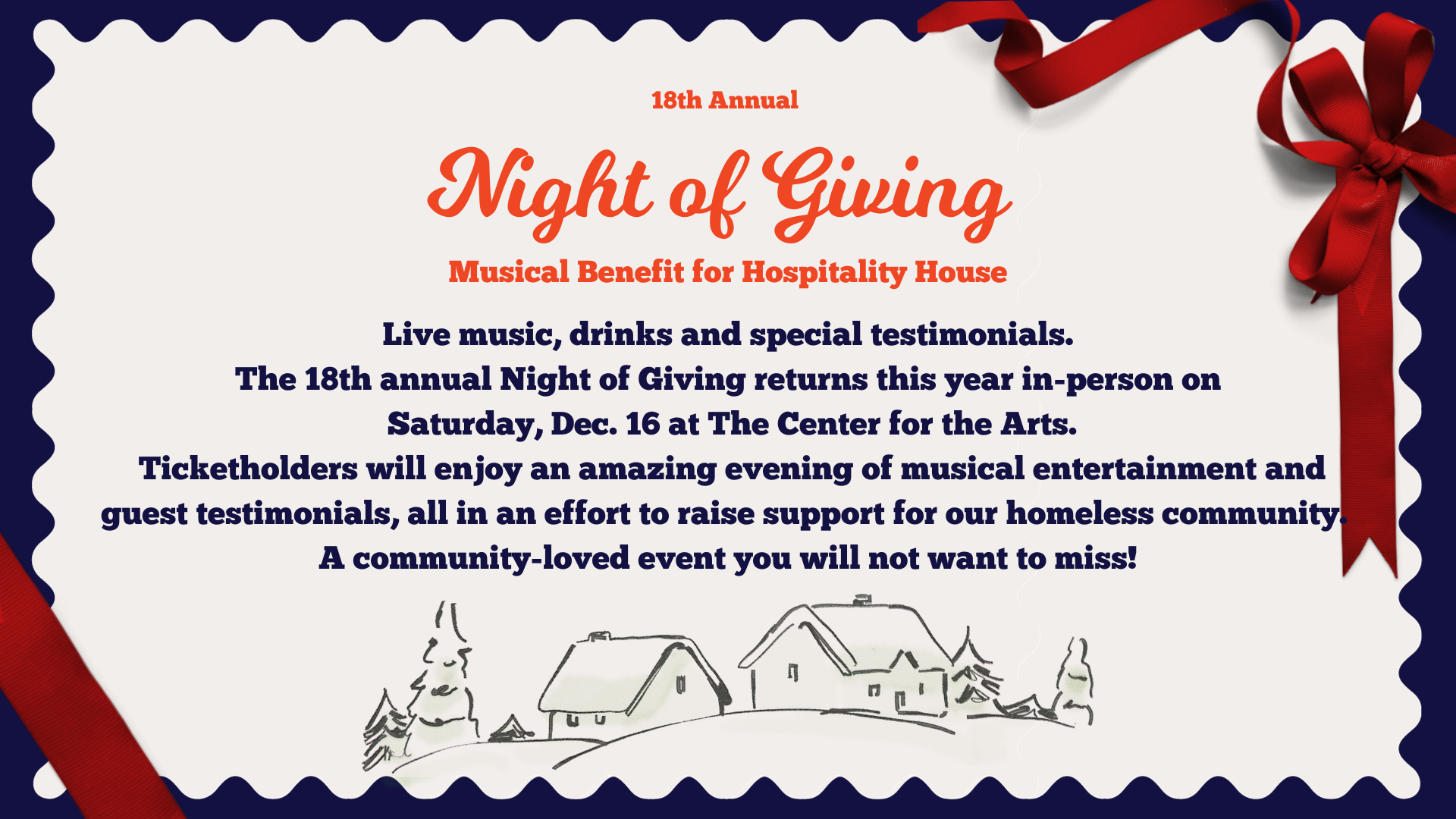 Singing out a song of love and gratitude
Thank you so much for all the love and support these last months. We have had the best summer and fall, collaborating, touring, and traveling to beautiful places to share music and life with all of you. 
Huge thank you and acknowledgment to the Women's Show, KVMR Women's Collective, including Susan Schreiver, April Miranda, and Diane McIntyre for the dreaming, tending, and initiating of this beautiful series, and to Wild Eye Pub's Beth Moore and David Kuczora & their lovely crew for their amazing hosting, food and more. The Women Making Music #5 Show featured Lindsay Bellows and Maren Metke, and they were able to support each other with their individual sets, along with some musical support from Justin Ancheta as well. Each artist had such a powerful message and presence. It was an honor to be a part of the finalé of such a special and carefully curated series and show. We hope that KVMR was able to raise some much-needed funds for all the good work they are doing.
Here is a clip of one of the songs from that evening:
Forager by Maren Metke
https://www.youtube.com/watch?v=oJbazKrbUfA