Dear Ones,
These days shorten and the glorious golden autumn light gives us a little shine-up… a boost of warm honey, as we head into the chilly cozy times where we get to feel and listen more deeply to what is stirring below. Deeper layers of aliveness are ready to sprout forth in our process as living creatures… community members. The songs have been coming through and the world needs them so dearly right now. We need each other and most certainly we need ourselves, whole, grounded, expressed, held, known, nourished, and at times, wrung out… the human experience is a dynamic one, calling us to be flexible, clear, and know ourselves the best we can (even as we change on the regular). 
We will be bringing our best version of ourselves this Fall/Winter to hold space for this process of aliveness, through the music, the magic soup, the grief, the rocking it out, the improv, and the soothing crooning us back to ourselves. 
Please come join us for our upcoming shows. Help us add to the metaphorical flame we will all be warming ourselves by this winter.
November 24th Honey of the Heart will be live at the Crazy Horse featuring the Justin Ancheta Band, DJ Fossil, Tim Bulkley, Gary Regina + Thomas Spellman. It's going to be a night to dance, celebrate, and surrender to the rhythm, while being held in the best rhythm & melody bed in town. 
December 16th Honey of the Heart will be live with BrightSide Blue at the Center for the Arts along with many other amazing musicians, supporting the Hospitality House Night of Giving Musical Fundraiser. This line-up is stellar, and the cause and vibes will be inspiring to say the least.
December 30th Honey of the Heart will be live at the Sacramento Downtown Holiday Extravaganza Street Closure on J St. and Firehouse Alley from 11 am - 5 pm
Then we are off again to Mexico for the heart of Winter for our annual World Schooling & Music Tour family adventure:
January 29 Honey of the Heart live at la Jacaranda Cultural Center, Patzcuaro, MX from 6-9 pm
Mark your calendars and surround yourself with friends. We are so ready to do this.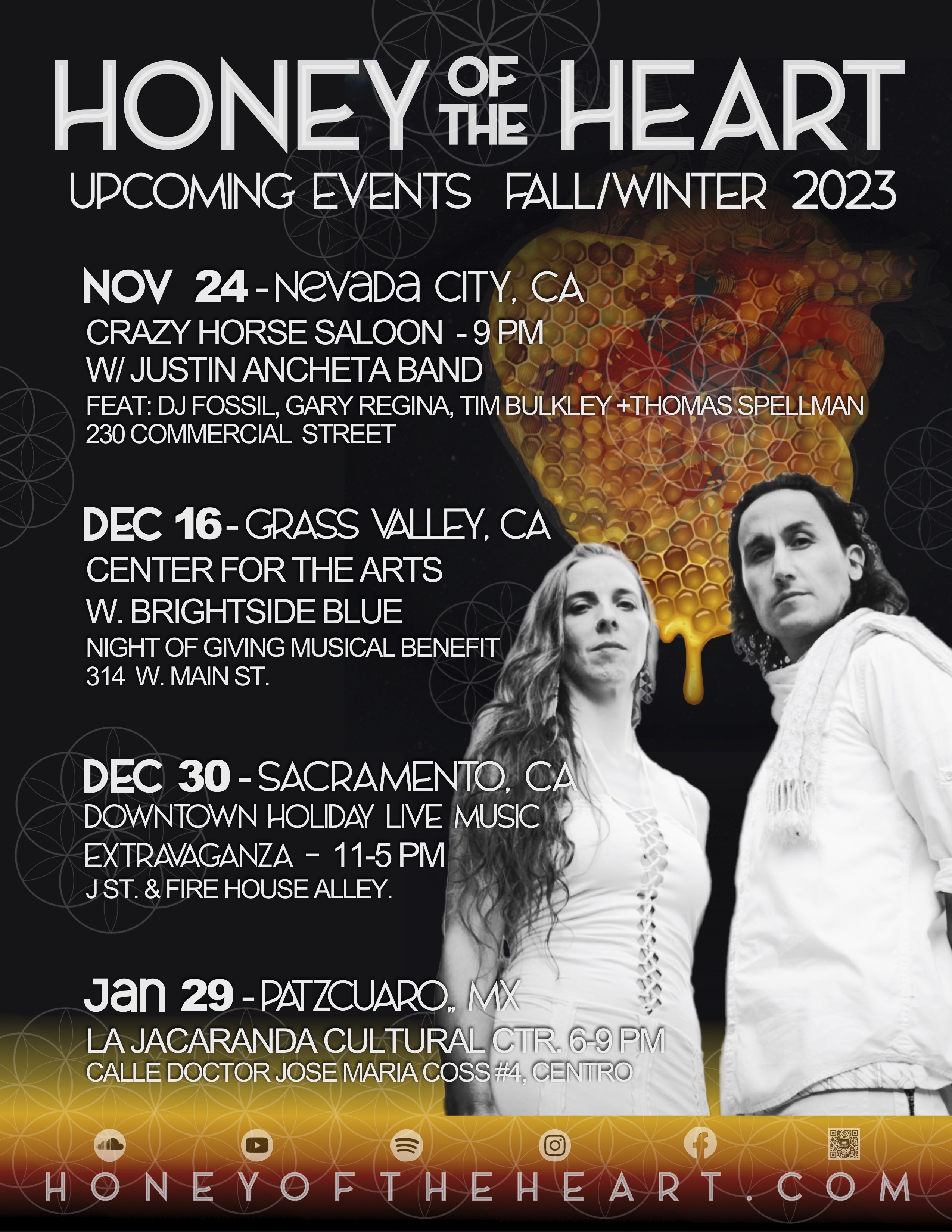 Much love,
Maren & Justin