Two Bands Come Together During the Pandemic to Create a Super Band 
Honey of the Heart and BrightSide Blue Announce A Special Video and Album Release Concert at the Hopmonk Novato on December 16th Following the Success of Their California World Fest Performances.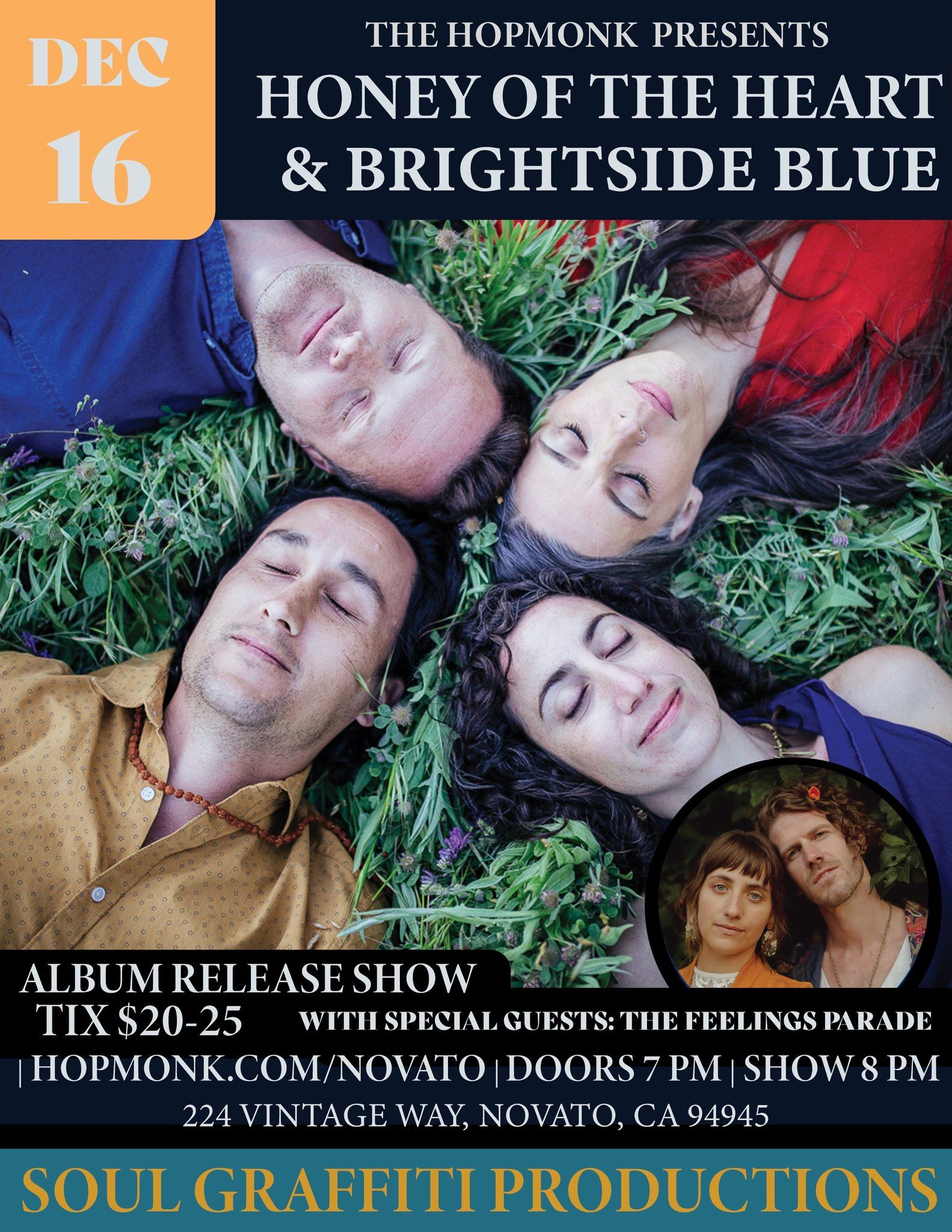 [Novato - December 2022] Honey of the Heart and BrightSide Blue team up for a once-in-a-lifetime double album release show in Novato, CA. The groups' budding collaboration throughout the pandemic culminates in the release of their "Live From the Center 2021" album with 15 songs, both originals and covers, filled with world rhythms and heavenly harmonies. The album also comes with a full 5 angle video remixed and mastered by Soul Graffiti Productions & Grammy Award-Winner, Oz Fritz. Pre Order the Album here. It's a double album release because an 8 song EP of Honey of the Heart is also out for the first time, written and recorded during the Pandemic, and produced similarly by Soul Graffiti Productions & Oz Fritz. 
"Live From The Center 2021" is the first recorded collaboration of Honey of the Heart and Brightside Blue as a Super Band. Both groups toured for years as duos, occasionally inviting other instrumentalists to join as guests, but the power that comes through when they all take the stage together is unparalleled. Since launching the combined music group earlier this year, they have been featured at multiple festivals and stages across the West Coast including Relaxpansion Festival in Ashland OR, Common Vision May Festival, California Worldfest in Grass Valley, CA and Port Angeles Concert Series on the Pier in Port Angeles, WA. 
Talent buyers, event producers, community members and strangers alike continue to express their ardent astonishment at the awesomeness of this dynamic group.  
Executive Director of the Center for the Arts, Amber Jo Manuel, shares: "This group was a hit at WorldFest. They played multiple stages throughout our four day festival including a spot on the main stage with some top artists from across the globe. They are always loved by the audience, have an excellent following and bring great vibes." Tyler Blue, Director of Music for the Crazy Horse Saloon said: "The term 'more than the sum of its parts' was invented for a group like this. It's rare to witness this level of heartfelt, creative intention come to fruition." 
The level of enthusiasm from fans at this early stage in the group's union foretells a spectacular road ahead. While there is no telling exactly how it will unfold, the chances of crying, laughing, or dancing wildly during a live performance is nearly guaranteed. The group delivers tight folk-soul-roots-world/flamenco sounds, compelling grooves and wailing solo-spiked jams – all offered in a spirit of care, humor, and hopes for a better world.   
These two groups found harmony in the dissonance of the pandemic: Every week they met safely outdoors to support one another and keep spirits high by learning each other's tunes. Their story of resilience through hard times is a testament to the healing power of music and community. Honey of the Heart and BrightSide Blue were just featured on a podcast called "Neurons To Nirvana" where both bands speak candidly about their deep connection as friends and musical allies.  
You can catch them live at their Album and DVD release show at the Hopmonk in Novato CA on December 16th, 2022 from 7:00 PM  to 11:00 PM. They plan to do a run of release shows throughout Northern California, on the brink of their CFTA release show in Grass Valley some time ago so keep your eyes peeled for these sweethearts: Honey of the Heart & BrightSide Blue are coming your way soon. Hopmonk Novato is located at 224 Vintage Way, Novato, CA 94945 
### 
The Facebook event 
Hopmonk Novato event page with ticket link. 
For more information on the artists, visit their respective websites:  
Honey of the Heart 
BrightSide Blue 
The Feelings Parade 
Website Pre-Release Link: https://honeyoftheheart.com/album/2308893/live-at-the-center