Just a few weeks after a super fun and lovely live stream show at #TheCenterForTheArts with the awesome #BrightSideBlue (Linsday Bellow and Ananda Vaughan), #HoneyoftheHeart is super #excited to team up again with these gems along with #HeatherNormandale (Heather Normandale and Paul Martin-Sounder) for a #neo-folk, #soul #power-couple, triple feature, #sonic creature #Valentines Sunday to up-level all others!
Join us on 2/14 at 7 pm PST for this #Livestream fun. We promise it will be tender, funny, #soulful, silly, #funky, loving, nature-filled & human. Furthermore, we intend to lend each of our #special #sounds & #skills to each other's #performances. Expect #three-partharmonies, #lovesongs, #newreleases, and more.
Tickets can be purchase through EventBrite and prices range from 0$ to 100.$, with eight unique options in between. Check them out below:
Just wanna check it out and get some love with no strings attached? Don't have a lot to give right now but need some love? We got you.

Date Night – $10.00

Your basic "let's grab a beer" level show ticket.

Flying Solo – $15.00

You've gotta treat yourself! CD or Download code of artist of your choice with your ticket purchase.

Friends with Benefits – $20.00

You'll receive a recording of the mixed show (audio, video) USB drive plus supporting the artists for the night!

First Kiss – $30.00

You get a jar of amazing, homemade fruit & herb flavored jun (honey green tea kombucha essentially) made by Maren Metke (and some honeybees) in addition to your live show contribution!

Speed Dating – $40.00

You'll get a CD or Download code of all artists with your show contribution!

Perfect Fit – $60.00

You'll receive a merch shirt from the artist of your choice in addition to a recording of the mixed show (audio, video) USB drive plus supporting the artists for the night!

Going all the way! – $100.00

Includes a special show song dedication for you and yours on this special night, and a recording of the mixed show (audio, video) USB drive plus supporting the artists for the night!
Facebook event – https://www.facebook.com/events/910954206339595
Thank you Grass Valley Center for the Arts!
Thank you so much to everyone who contributed & offered up your presence for our show at The Center for the Arts Livestream last month (1/15/21). We felt so blessed to be held in the care, quality, and beauty of that new space, and the lovely individuals who are holding it down at CFTA during this crazy, unique time. The sound, lights, and space gave us a sweet reminder of what it is like to perform on a big stage again – what a huge gift. Even with the technical glitches of the show – particularly on FaceBook, we are extra excited to create and release some really beautiful high-quality audio and video from that show and are currently working with award-winning producer, Oz Fritz to get those completed. A huge shout out to John Taber and Liveshots for these beautiful photos (see below)!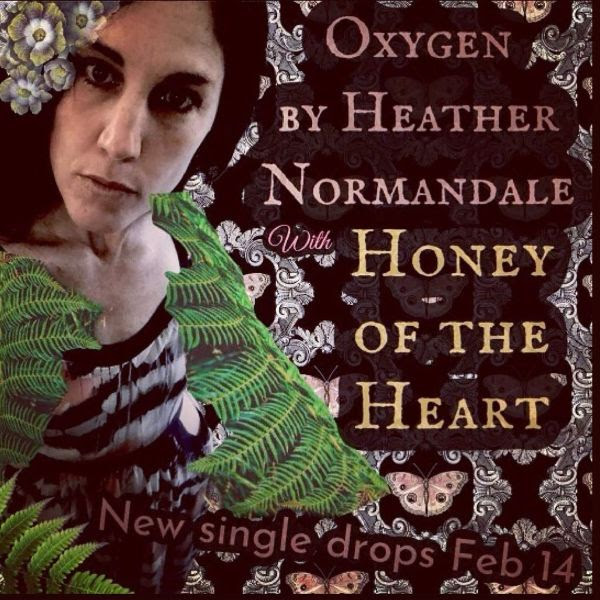 Brand New Collaborative Tune
This song is such a treasure. Eliciting deep sensations of gratitude, wistfulness, mirth, and tenderness, it uses metaphor as a way to allow us an expansive perspective and deeper empathy for our own humanity and nature all at once. Honey of the Heart is proud to lend their sound to this piece and both Marem and Justin (and Joonie) agree that this is one of their very favorite HN songs of all time. Join us as we celebrate Heather, her dynamic prolific songwriting, and her powerful presence as an artist, magical diviner, creatrix, and more, so very needed and such good medicine in this time.
Beatles Cover & Lovesong Out Now
 "I Will" –  by Heather Normandale & Honey of the Heart
For all the cute silliness, watch below!: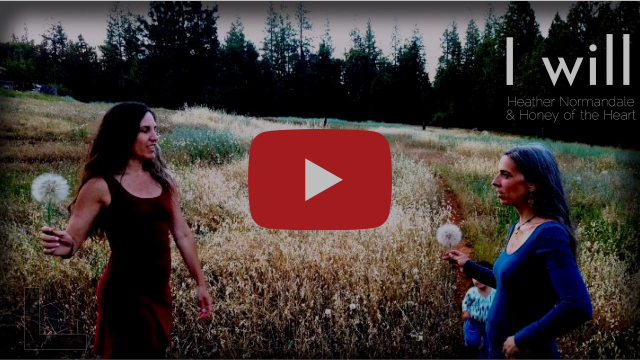 Heather, Maren, and Justin team up once again to share this fun cover with you all. You can even get a glimpse of little Junebug running along side in some fo the clips.
Live from The Center For The Arts in Grass Valley Photos
Photos by beloved, local papa bear, master host, and gifted photographer: John Taber