STREAMING LIVE FROM ASHKENAZ, BERKELEY, CA!
Honey of the Heat is honored to be among the fine musicians playing this benefit show for Standing Rock, Tribute for the recently passed and revered Leonard Cohen.
Music Made Collective & Seaweed Sway present, a Bay Musicians For Water benefit concert for Standing Rock…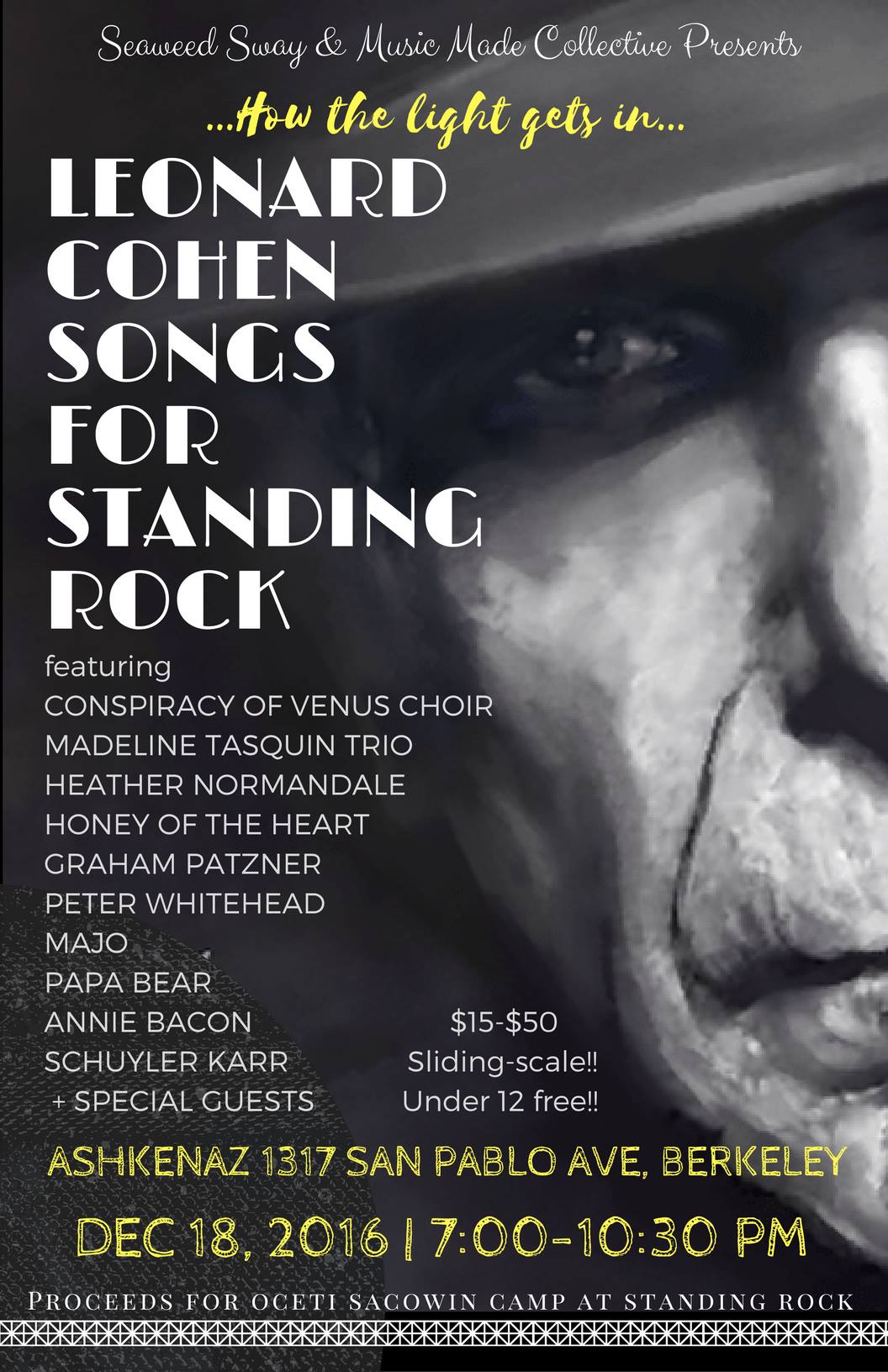 Live stream 7:30pm Pacific Time: http://smarturl.it/cwLeoCohenDec18
Advance tickets for live concert in Berkeley CA: http://smarturl.it/cwLeoCohenDec18
Graham Patzner of Whiskerman
Conspiracy of Venus Choir
Madeline Tasquin w/ Shiloh Parkerson, Hannah Levy & Schuyler Karr
Heather Normandale
Honey of the Heart
Annie Bacon
Majo
Peter Whitehead
Papa Bear
And poet Rusty Rebar
…come together for a celebration of Leonard Cohen's music and spirit, all in support of Oceti Sakowin Camp on the frontline of the #StandingRockresistance to the North Dakota Access Pipeline!
For more info on the Oceti Sakowin Camp, please like and follow their page on Facebook, and visit http://www.ocetisakowincamp.org/ The #waterprotectors are entering a long & cold North Dakota winter, and money raised at this event will help them stay supplied through the winter.
+++++++++++++++++++++
TO ATTEND THE CONCERT at 1317 San Pablo Ave @ Gilman St in Berkeley CA:
• Tickets are $15-50 sliding scale. Child 12 & under enter free
• Advance purchase recommended! http://smarturl.it/tixLeoCohenDec18
• Tickets also available during open hours from the cafe (ashkenaz.com)
++++++++++++++++++++++
TO STREAM THE CONCERT LIVE:
–go to http://smarturl.it/cwLeoCohenDec18
–follow the event and tune in between 7-7:30pm Pacific time on the day of the concert!
++++++++++++++++++++++
All the musicians are donating their time for this event (thank you, gang!!) so that we can send 100% of the band's door take at the event to Oceti Sakowin Camp. Ashkenaz will be calculating their expenses at the min. ticket price of $15, so rest assured all ticket sales above $15 min per ticket up to $50, will go directly to the fundraising goal of $5555.
Songbooks will also be available for a donation at the door & merch tables 🙂
All artists will be donating a portion of their merch sales to help the fundraising goal so make bring extra cash and get some goodies for yourself or giftiepoos
The donation will be done via PayPal or check on December 19, and announced on this event page. Feel free to direct any questions about how the funds will be used or the portions of proceeds going to Ashkenaz, Concert Window or BandCamp, to madeline@tasqu.in
OUR FUNDRAISING GOAL: $5555
— 3D attendance Goal : 200 attendees (ideal = sold out!)
— Online streaming Goal: 100 online viewers each donating (ideal = hundreds!)
— An audio recording of the concert, if all the technology is successful, will be made available for purchase (announced on this event page and at www.tasqu.in between Dec 19-22, just in time for the holidays. 85% of proceeds from those sales will also go to Oceti Sakowin Camp (15% to BandCamp service)
The concert itself will begin at 7:30pm Pacific Time, the stream will begin between 7-7:30pm when doors open and the stream comes online. Seated concert, all ages, ramp wheelchair access by request to door person. Beer, wine & food available at Ashkenaz (proceeds to Ashkenaz Music & Dance Community Center, a 501c3 venue with a long history of promoting peace and understanding through music & dance)
Please send this information to friends & family to help us reach our fundraising goal, and invite them to tune in with you on Sunday December 18 at 7:15 Pacific! Several of us performers have friends on the ground at Oceti Sakowin Camp, and we're excited to bring our love of music and of Leonard Cohen's work, while helping continue what has been a peaceful and love-centered resistance to this pipeline and, in spirit, oil & gas infrastructure expansion that threatens our precious waters the world over.
With love,
maddy, heather & jessie