http://thecenterforthearts.org/honey-of-the-heart-cd-release-party/
Local favorites, Honey of the Heart return to the Grass Valley Center for the Arts on May 13th for a multi CD release and special evening with their full band and cellojoe opening the set.

Ticket/Event link: http://thecenterforthearts.org/honey-of-the-heart-cd-release-party/
Fb Event Link: https://www.facebook.com/events/989421687805640/
Date: 5/13/16
Where: Center for the Arts, 314 Main Street, Grass Valley, CA 95945
Door: 7:30pm
Show: 8:00pm
Ticket: $20 member, $25 non member
More information: honeyoftheheart@gmail.com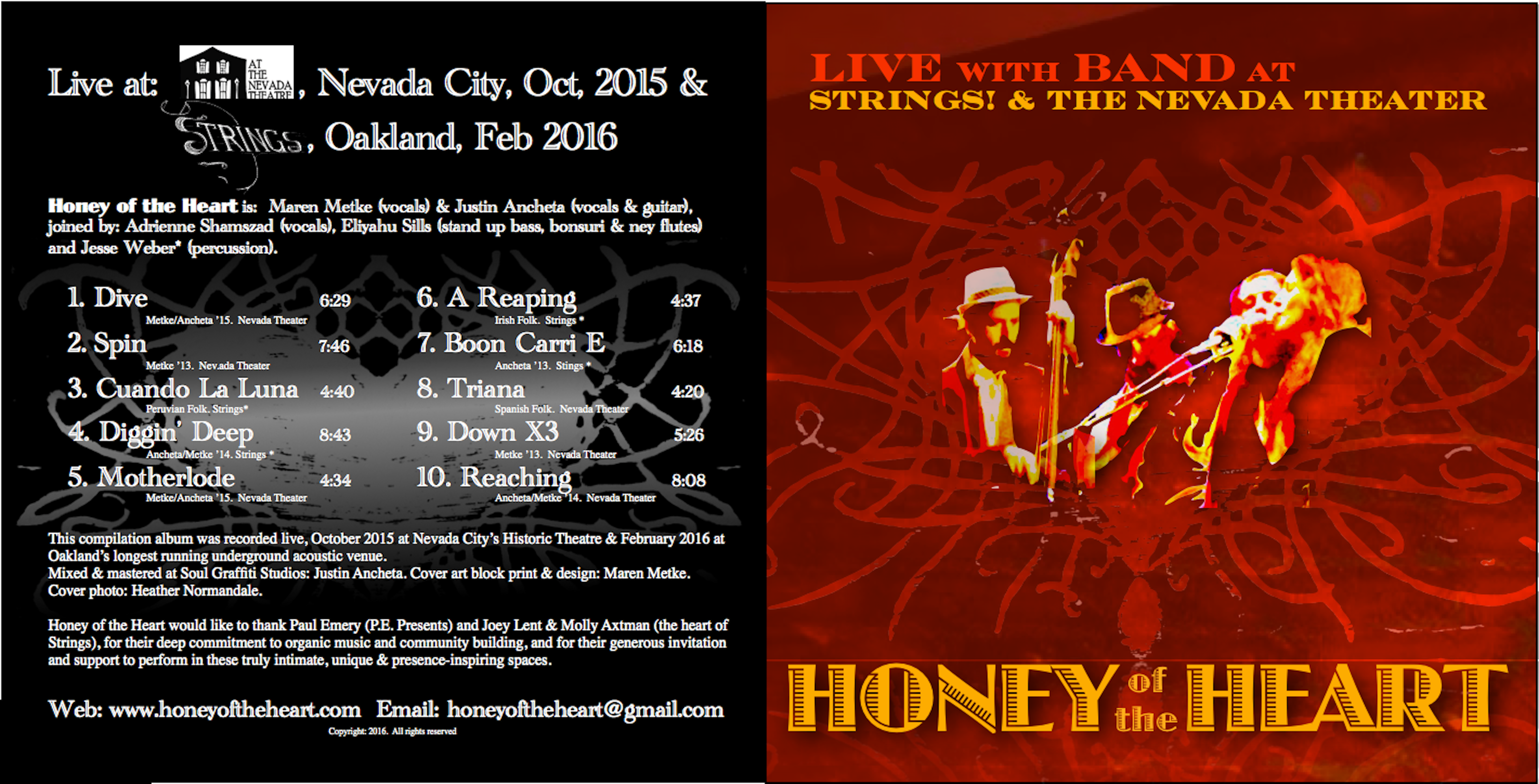 Honey of the Heart (fronted by Justin Ancheta and Maren Metke) is described as "a feast for the senses and a balm for the soul", leaving you with "chills and an open heart". This versatile, inspiring duo, backed by their dynamic and talented band, weaves together soaring, rich vocals and melodies… haunting, epic, three-part harmonies… powerful beat boxing & contagious polyrhythms infused with a deep, soulful presence..
SoundCloud: https://soundcloud.com/honey-of-the-heart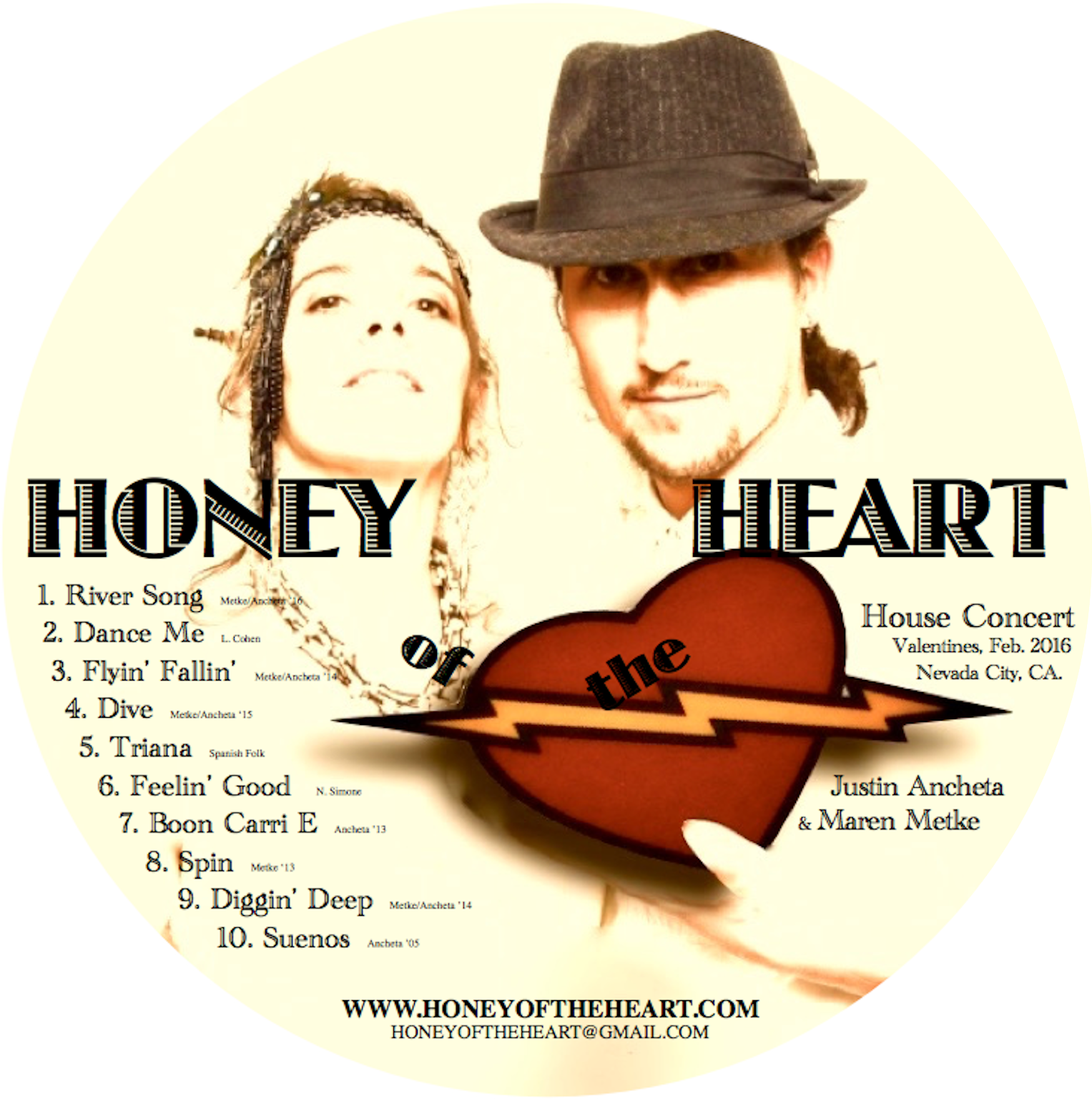 The show will be full of musical magic, from the subtle and soft to powerful, motivating music that will inspire you to get dancing! "We're so pleased to be playing at the Center for the Arts again" says Maren Metke, one half of the gifted duo. "Both Justin and I have deep roots in Nevada County. There's nothing like introducing our music to new audiences and coming home and playing in front of friends and family at the same time."
The show will be opened by Cello Joe, the world's only beatboxing, long distance bicycling, looping cellist. His beatboxing (vocal percussion) and funky cello grooves form a rich soundscape for intelligent lyrics and his music spreads love, joy, laughter and conscious vibrations.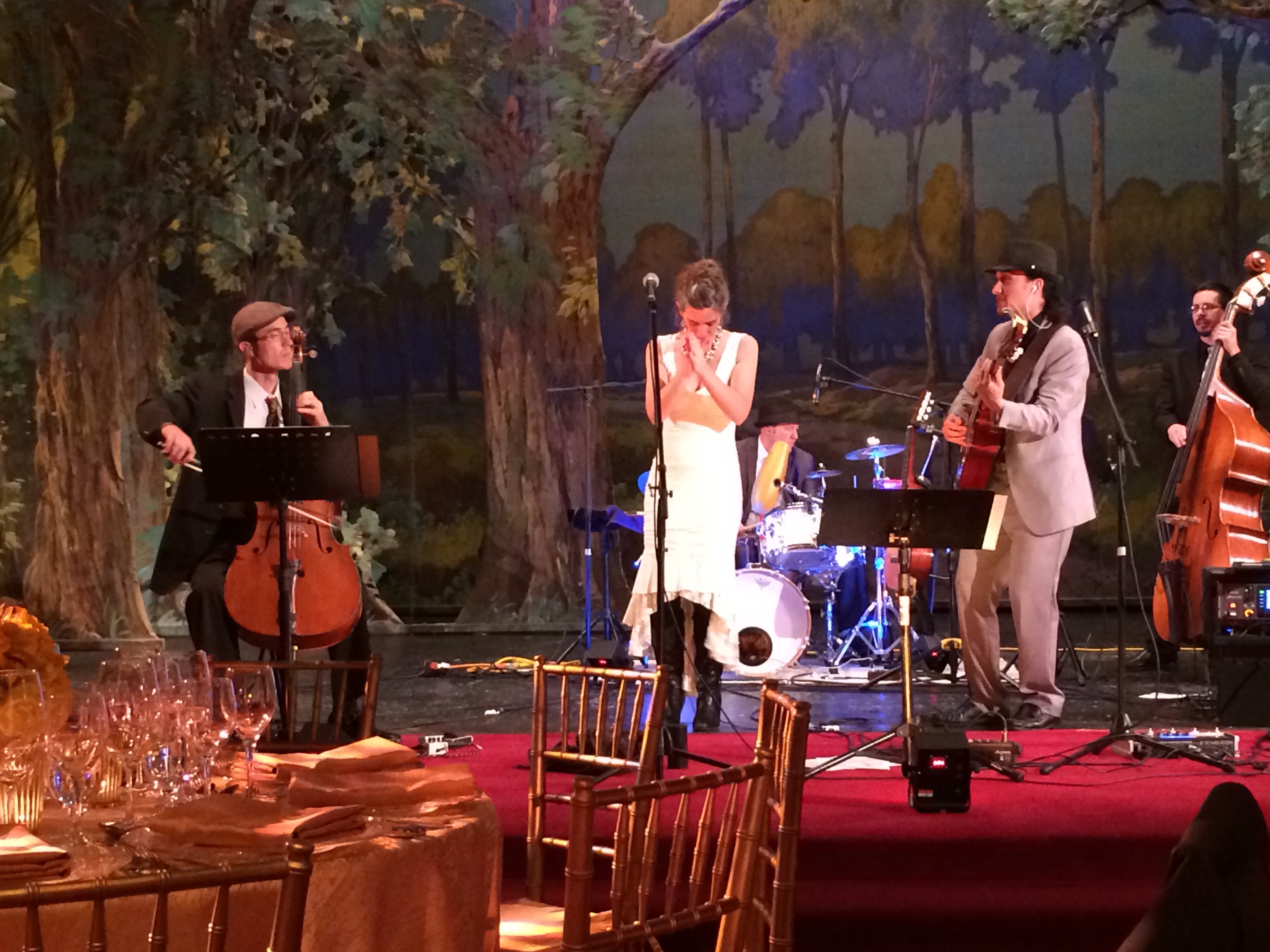 About The Band:
Honey of the Heart's style is described as Folk, Latin/Flamenco, Jazz, Gypsy, Roots, Americana fusion with rich harmonies, and powerful vocals, suggesting a deep Soul influence. Their combined influences form a strong chemistry and flow, bringing a positive message and intimate breadth of landscape, blending contagious rhythm and melodies to sweeten the hearts of all who listen.
They were featured at World Fest 2015, Prana Festival 2014, had the honor of opening for Taj Mahal in March 2015, and Rising Appalachia in Fall 2014. They have produced 2 EP's since Fall 2014, including 'Live @ CFTA, and will be releasing their 3 live albums at this show (Live at the Nevada Theater Fall 2015, Live @Strings! in Oakland 2016, and Live in Nevada City Valentine's Concert 2016). They are currently working on a full studio album, and plan to release it later in 2016. Justin Ancheta and Maren Metke of Honey of the Heart are joined by Adrienne Shamszad, Cello Joe and other special guests.
For further information, contact Soul Graffiti Booking @ (530)-575-1993. honeyoftheheart@gmail.com