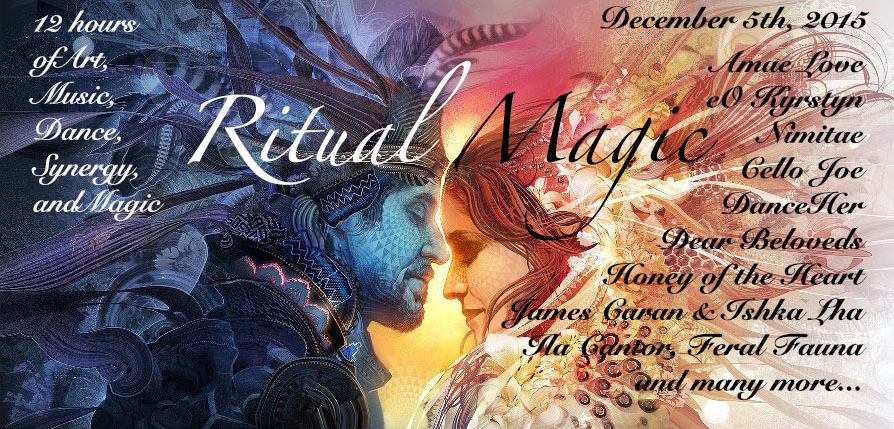 We are excited to part of this magical event. Hope to see you there!
RITUAL MAGIC IS …
★ A Late Night Ritual Theatre for the Soul
★ A Twelve Hour Musical Ritual Performance Dance Journey
★ A Night of Multi-Talented and Deeply Evocative Transformational Ritual Performance
★ A World Where Musicians, Performers, Priests/Priestesses, Characters, Dancers, Painters, Storytellers, and Other Artists Collide with Creativity to Create Magic
★A Place Where Artists Meet Guests To Truly Synergize
THIS LIMITED CAPACITY EVENT WILL SELL OUT
Only 140 tickets will be sold. Selling fast.
With our magical artists…
eO & Kyrstyn
Nimitae
Dear Beloveds
Honey of the Heart
James & Ishka
Ila Cantor
Aleksandra Shira Dobov
Amanda Rose Loveland
Feral Fauna
Cello Joe
DanceHer aLive
Yogi Prateado
Amae Love
Shantala Davis
TICKETS: http://www.eventbrite.com/e/ritual-magic-eokyrstyn-pixton-amae-love-nimitae-danceher-dear-beloveds-cello-joe-honey-of-the-heart-tickets-19353862925?aff=facebookevent
FB Link: https://www.facebook.com/events/1510361142594390/1515612195402618/